This year, a community of Carmelite Sisters is celebrating 100 years of service to the people of Canada. They are the Carmelite Sisters of the Divine Heart of Jesus who were founded by Bl. Maria Teresa of St. Joseph (Anna Maria Tauscher) in Germany in 1891.
In an astonishing short period of time, Mother Maria Teresa had founded homes for abandoned and poor children in Germany, Holland, Italy, England, the US (where the first home for the aged was founded) and Canada. She arrived in New York in 1912 and came to Toronto, Canada, at the request of the Archbishop in 1913.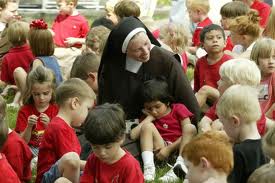 As contemplatives the Carmelites dedicate themselves to prayer of reparation to the Heart of Jesus and intercession for the needs of the world. Through their apostolic endeavors they bring God's love to others through their care for children, the elderly and the poor and needy.
Mother Maria Teresa said, "How great is the holy love that binds religious together! It is this love that makes life in the Order a paradise despite all the sacrifices, hardship, and privations." Mother had a great devotion to the Blessed Sacrament and said if He would come to their homes, she would come too, wherever it may happen to be. This love for her Spouse carried her across the ocean and is a Divine love that never rests but "sends forth new flames that consume itself in works of charity toward others."
Today, the sisters in Canada serve in the dioceses of Toronto, St. Catharines and Calgary. On May 30, they will be holding a 100th anniversary celebration at St. Francis of Assisi Church in Mississauga, Ontario. May they be blessed with many more years of service to the people of Canada.