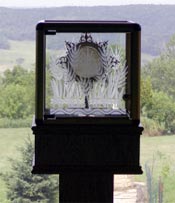 Last week, I had the privilege of visiting the Hermits of St. Mary of Carmel in Houston, Minnesota, a diocesan institute of autonomous right following the Primitive Rule.  I was not planning to spend more than an hour but the conversation was so lively and the tour so interesting that the time flew by like the breeze. We found we had a lot in common, where we grew up, etc., so there was a lot of laughter.
The prioress was a Carmelite for the Aged and Infirm for 25 years. Another sister was originally a Poor Clare until she experienced the call within a call. The youngest sister was a Carmelite in Singapore who felt drawn to the hermit life which took her to Ireland and finally to Minnesota. One sister, in search of the hermit life, worked on Mount Carmel then went to Italy and finally to Minnesota. There is also a postulant and 3 others who will soon be coming to experience their unique life.
Most of the women who "come and see" what the life is like do not stay. Some feel called to live a solitary life as a canonical hermit (Canon 603). Others return to traditional community life. The blend of community life and eremitical life is difficult. St. Bruno said that some amount of community life is necessary to make the life livable. Nevertheless, it is a call for the few.
This is not a place to escape to or a place to escape from problems. If anything, if you come in carrying a lot of unresolved issues, they will be brought to the cold light of day.  Many people come but "few are chosen."
The center/community building is on a hill overlooking a valley and the individual hermitages. The chapel is in the middle with a bay window overlooking the hermitages. The tabernacle is made of glass containing a large consecrated host in a small monstrance. The tabernacle is lit at night so that all the sisters can see it from their hermitages. It must be quite a sight to see the golden glow of the Lord in the dark of night.
They accept only alms for their support. If the Lord wants their life to continue, then He will provide.
Visitors are welcome but silence and quiet is the norm. You can write to them for more information at 33005 Stinson Ridge Road, Houston, MN 55943. They do not have a website or use email.