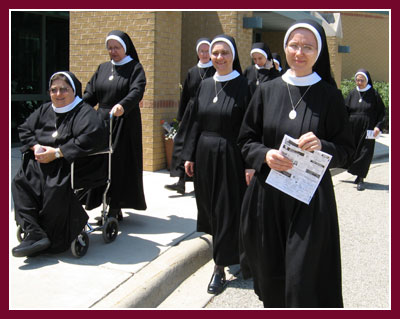 From the beginning of their foundation, the Franciscan Sisters of St. John the Baptist were inspired by Ven. Archbishop Fulton Sheen to offer a holy hour every day for priests and seminarians. Imagine their joy when their bishop, Daniel R. Jenky, asked them for help in the setting up of the diocesan museum as well as the Archbishop Sheen Museum. The Museum is also only one block away from the Cathedral of Saint Mary of the Immaculate Conception, where Sheen attended grade school, learned to serve Mass, and was ordained a priest on Sept. 20, 1919.
The Franciscan Sisters of St. John the Baptist are a relatively new community established in 2006. Previously members of another religious congregation, they were inspired to start a new community, modeled after the life of St.  John the Baptist, which is a life of total trust in God and self-renunciation. They are a contemplative-active community who serve the sick and poor, according to the needs of the Church, their bishop and society. Bishop Jenky told the sisters that John the Baptist is "a faithful model of conversion who spent his life preparing the way of the Lord and preaching repentance."
May the Sisters be blessed on this solemnity of the Birth of St. John the Baptist!
"He must increase and I must decrease" (John 3:30).