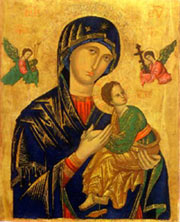 Today, we celebrate the feast of Our Mother of Perpetual Help. Having lived in a Redemptorist Parish for 10 years, I am very familiar with the devotion and have a great fondness for the image and what it invokes.
The Redemptorists have custody of the miraculous and ancient icon in their Church, San Alfonso, in Rome. According to tradition, the icon originally came from Crete, found its way into private hands and in 1499, was displayed in the Church of St. Matthew in Rome.
The icon was rescued when the Church was destroyed by Napoleon's army and remained in obscurity until until the Redemptorists asked Pope Pius IX for guardianship of it, for they had learned that the site of their new church in Rome, San Alfonso (named after their founder St. Alphonsus Liguori), was built on the site of the very same St. Matthew's that had once housed the relic. The icon was transferred to the new Church in 1866. As the guardians of the holy icon, the Holy Father entrusted them with the mission to "make her known throughout the world." During the restoration of the icon about 20 years ago, it was determined that it was about 600 years old.
The symbolism depicted in the icon is most touching and reassuring. Mary is holding Jesus while the Archangels Michael and Gabriel hover in the background.  On the left side, Michael is holding a lance and  a sponge while Gabriel is holding the cross and nails. Jesus' eyes are fixed on the Cross. Mary's eyes gaze solemnly at us. One of Jesus' sandals is loose, indicating that in His haste to get to Mary He almost lost a shoe! Though some say it indicates the Divine and human nature of Christ.
The Handmaids of the Precious Blood in Lake Villa, Illinois, have two beautiful stained glass windows depicting the scene in the icon before Jesus is in Mary's arms. In one window, Jesus is running to Mary with His loose sandal behind Him; in the other, Mary with outstretched arms is awaiting Him.
Mary is telling us to ponder and keep in mind the salvation her Son has won for us in His Passion and death. Jesus, meanwhile, is telling us to run to Mary. If we stay close to her, we have nothing to fear.
Two beautiful shrines to Our Mother of Perpetual Help are at the Basilica of Our Lady of Perpetual Help in Boston and St. Michael's Church in Old Town, Chicago. As the patroness of Haiti, may Our Mother of Perpetual Help be of constant help to them and those who are far from home.