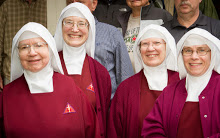 What are the signs that it might be time for a contemplative community to pick up roots and move to another location? How about having a witches coven, nudist colony and New Age B&B as neighbors? Or maybe a gunshot through the chapel window on Holy Saturday? A mountain lion gazing in through the window? A storm that has demolished your greenhouse? All this happened to the Handmaids of the Precious Blood in Jemez Springs, New Mexico.
Last month, the Sisters were pleased to announce their move to a new home in the Diocese of Knoxville, Tennessee. It is rather ironic that they have moved from traditionally Catholic land to the Protestant Bible Belt which is seeing an increasing number of Catholics. How wonderful that the people of east Tennessee will be able to see sisters in habits. This contemplative monastery is a first for the diocese. There are 18 professed sisters with several in formation.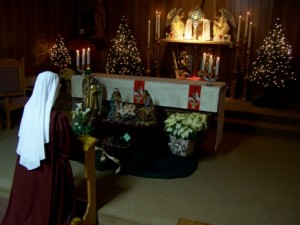 I am happy to say that the IRL played a part in this happy marriage between the diocese and the sisters. It was at an IRL event that Mother Marietta met Bishop Richard Stika, the Bishop of Knoxville. Cardinal Raymond Burke and our Executive Director, Mike Wick, spread the word among the bishops that the sisters were contemplating a new home. At one point, they were communicating with 9 dioceses. After much discernment and prayer, the sisters were delighted to hear from Bishop Sticka who said that the diocese had been given a great gift and he was able to offer the sisters a home.
The Handmaids of the Precious Blood were founded in 1947 by Father Gerald M.C. Fitzgerald, sP, who opened his door one day to a homeless person only to discover that the man was a priest who had left the Church because of personal problems. This inspired him to found a religious order whose mission is to pray for the sanctification of all priests. Mother Marietta said, "These Sisters don't just pray for priests, they live for them." Their beautiful habits reflect their life of prayer before the Blessed Sacrament. The wine red color symbolizes the Precious Blood and the white veil symbolizes the Eucharist.
Bishop Sticka said, "Their prayers and many sacrifices as a silent proclamation of the Gospel are the very "soul and leaven" of the Church's evangelization efforts and works of mercy. Indeed, cloistered religious are truly indispensable co-workers in the mystery of redemption."
See the complete story in the East Tennessee Catholic.