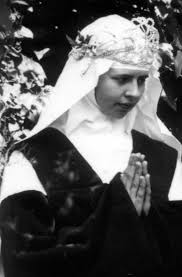 In 2011, we published an article in Religious Life called "A Century of Zoe" which was the vocation story of Mother Teresa Margaret, foundress of the Carmelite Monastery in Traverse City, Michigan. Baptized with the name Zoe, she said that she never liked the name, thinking it not Catholic enough, until she read that Father John Hardon said that Zoe means sanctifying grace in Greek.
Well, on May 26, 2013, Zoe went to meet, face to face, her heavenly spouse. She had been a cloistered nun for 83 years! She died at the age 101 and had entered the Grand Rapids Carmel when she was 18 years old.
Zoe Julia Armstrong was born in Ohio in 1911. When she first wrote to her first Carmel and received the answer back that they were full and to try elsewhere, she wrote back and said, is anybody going to die soon? She was full of spunk. When she entered the Grand Rapids Carmel, she was so excited that she grasped "old Mother Bernadita" in her arms and spun her around! Zoe had a rough go at first but said, "No I'm not going to go. I'm going to become what they want me to be, to prove my love to Him!"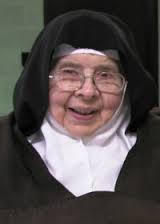 In all challenges, Mother said we have to remember, "God wouldn't ask this of me if He didn't intend to help me with it."
According to her sisters, Mother transitioned from vigorous activity to old age with remarkable gracefulness.  Until her brief final illness, she participated in all the activities of her religious community.
Requiesce in pace.