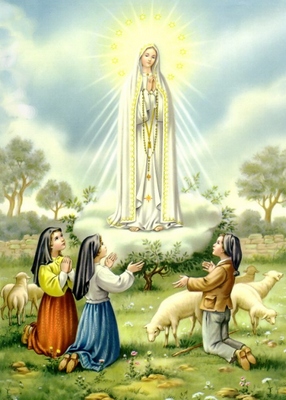 One of the missions of the Sisters of the Immaculate Heart of Mary of Wichita (IHM) is to pray for the conversion of sinners. You can help! Using Blessed Mother Teresa of Calcutta's "quick novena" as a model, the sisters are enlisting the help of the laity in this endeavor to pray for sinners and to ask for Our Lady's help as they build their new novitiate. As of May 13, 2013, they had prayed 71,080 Memoraraes on their way to their goal of 5,000,000!
The IHM sisters have a special devotion to Our Lady of Fatima. When their religious institute was founded in Spain in 1848 by Fr. Joaquin Masmitija, he placed it under her protection. It was in Fatima that the Blessed Mother told Lucia, Francisco and Jacinta to "pray much and make sacrifices on behalf of sinners, for many souls go to hell because there is no one to make sacrifices for them." When they made such a sacrifice, she told them to pray: "O Jesus, it is for love of You, for the conversion of sinners and in reparation for the sins committed against the Immaculate Heart of Mary."
Their mission and the beloved name of Mary held by the sisters encourages them to partake of this work for the sake of the world. Anyone can pray the quick novena which is 9 Memoraraes said in petition and 1 said in thanksgiving for a total of 10. You can pray all at once or scatter them throughout the day. If you do this daily for 14 weeks, you will have said 980 Memorares! Add 2 more days and you will have said a thousand. You can help the sisters reach 5 million prayed for the conversion of the world!
The sisters sent us a postcard that can be used as a daily tally which is to be mailed back to them after 1000 Memoraraes are said. They will then present them to Our Lady of Fatima at her shrine on their property each year on May 13th and October 13th—the anniversary of her first and last apparition at Fatima in 1917.
For more information, please visit their website.