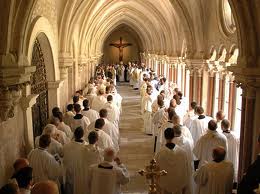 August 15th is a special day for Miles Christi for it was on this day in 1984 that their founder, Rev. Fr. Roberto Juan Yannuzzi, MC, received the inspiration to found a spiritual army of priests and brothers dedicated to the sanctity of the laity, especially college students. They do this through retreats, specifically through the spiritual exercises of Saint Ignatius of Loyola, and catechesis. In the few decades since its founding in Argentina, the Order has spread to the US, having locations in Michigan and California. Amazingly, they were invited to the US by the IRL's founder, Rev. John A. Hardon, S.J.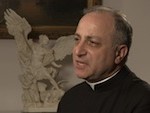 In the latest newsletter, Rev. Fr. Yannuzzi, quoting Hilaire Belloc, said that "great sculpture is not fashioned in butter. The best carving is done in the closest-grained wood, and against the grain." These are the type of men he is seeking – young men who "become tough men, men of character, men with a backbone. In other words, exactly the contrary of what the world and contemporary culture promote."
In their Constitutions, it says: "A horror for a mediocre, useless, and empty life is deeply rooted in every true miles Christi, who, looking at his Lord on the Cross, asks himself, `What have I done for Christ, what am I doing for Christ, what must I do for Christ?´" (Const. 11).
Miles Christi, which means "soldier of Christ," conducts the Spiritual Exercises across the country on a regular basis. Click here to see if one is coming near you! They also have a love for the rich liturgical traditions of the Church, including Latin and Gregorian chant. Their Schola Cantorum, made up of students and religious, has sample downloadable chants available on their website.
Miles Christi says that a "Filial love and veneration of the Holy Father is a salient feature of our Religious Order. In Rome we possess the beacon of the Truth" (Const. 78). How marvelous that one of their own countrymen is now the Vicar of Christ for the universal Church!