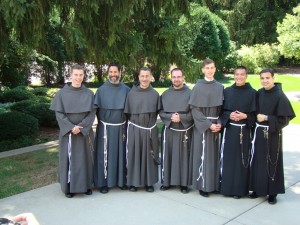 Two weeks ago, the Conventual Franciscans celebrated the simple professions of seven young men. Friar Patrick from New York, Friar Joseph from Ireland, Friar Israel from Nevada, Friar Don from Texas, Friar Thomas from California, Friar Colton from New York and Friar Gregory from Australia professed the vows of chastity, poverty and obedience and received the cincture with the three cords as a reminder of the evangelical counsels that they promise to follow.
How wonderful that these young men will continue the tradition of not only St. Francis of Assisi but also of his spiritual son, St. Maximilian Kolbe, whose feast we celebrate today. The professions took place at Marytown which is the National Shrine of St. Maximilian. The American Novitiate, located in Mishawaka, Indiana, is where the novices take classes on the Franciscan rule, constitutions, vows, Church documents of the consecrated life and its history, prayer forms, Scripture, communication, Mariology and the Secular Franciscan Order.
According to Brother Paschal Kolodziej, their order "has always had a great emphasis on community and prayer. Many young people are attracted to this call to be a friar minor. Our call is to be a 'lesser brother' to all those we minister to. That can take many forms and ministries." He adds that "the fraternal aspect attracts young people who are looking for a sense of belonging. We have always been of service to the Church in many different ways. Obedience to the Church has always been one of our hallmarks."
St. Maximilian, the "martyr of charity" who was killed in Auschwitz in 1941, wanted to "win the world for the Immaculata." May these seven friars in their various ministries draw many souls to Christ through the loving hands Mary, His mother.