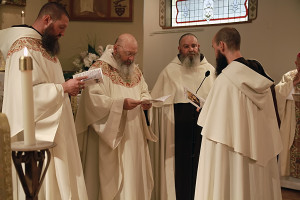 One of the rarest vocations in the United States seems to be the call to be a hermit.  In fact, there seem to be only two Carmelite men's communities of true hermits in the United States. Therefore, it is with rejoicing that one hears about the profession of a man or woman to this most ancient of vocations.
The Carmelite hermits trace their lineage back to the 13th century when a group of hermits living on Mount Carmel in Palestine came together under a formula vitae which developed into the Carmelite Rule. Because of the Prophet Elijah's association with Mount Carmel, the hermits adopted him as their spiritual father. A colony of hermits is called a Laura in which each hermit has an individual hermitage.
Paul Wathen was living in Colorado when he became interested in the writings of St. Teresa of Avila and felt drawn to the contemplative life. As a graduate in electronics and computer science from Indiana State University, Paul was living a good life. Then the 40 year-old made a trip to the Hermits of the Blessed Virgin Mary of Mount Carmel in Christoval, Texas, and received special graces that weekend. "God let me know this was where He wanted me to be. I found a lot of peace."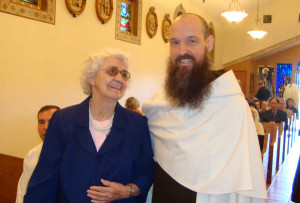 Paul, now Brother Mary Joseph of the Holy Rosary, says the life is not for everyone. But with God calling him, he could not say no. Telling his mother was easy. she was not only supportive, but overjoyed!
The story of the founding of the Christoval hermits is a miracle in itself. Fr. Fabian Rosetti located the isolated land that he wanted for a hermitage but the owner wouldn't part with it for three reasons: Fr. Fabian was Catholic,  he was a priest, and he was Hispanic. But God's plans with prayers and sacrifices could not be stopped. Father got his 200 acres with many Protestant workers assisting in the building of the hermitage. In fact, a good number of their regular visitors and friends are Protestant!
See the complete story in the Southern Indiana Catholic newspaper.
"Every day I must say to myself: Today I begin –  St. Anthony of the Desert
bear witness to the passing nature of the present age by the inward and outward separation, from the world. By fasting and Penance, they show that man does not live by bread alone but by the work of God. Such a life "In the Desert" is an invitation to their contemporaries and to