Today is one of the great feast days on the Church calendar!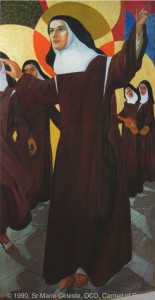 God's blessings to all of the Teresian Carmelites around the world as they remember their foundress St. Teresa of Avila.
In 2015, the Discalced Carmelites around the world will be celebrating the 500th anniversary of the birth of Saint Teresa who was born in 1515 in Avila, Spain. As is wonderfully typical, they are not just awaiting the big day, they are prayerfully preparing for the momentous day well in advance.
In August of 2014, various Carmelites from around the country and the world are coming together to sponsor a three-day seminar in San Jose, California, called: The Creative Spiritual Genius of Saint Teresa of Avila Today. There will be prayer, talks, solemn liturgies, music, a banquet, etc. all to thank God for this magnificent Doctor of the Church (the first woman to be declared so) and for the gifts of her charism active in the world today.
It's not too soon to sign up! Visit www.stj500westernus.com for more information.
And to order copies of the picture of St. Teresa (pictured right) and other works of art by Sr. Marie-Celeste, OCD,  visit the Carmel of Reno's website.