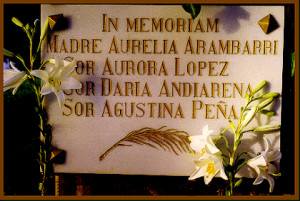 Tomorrow, October 13, four Servants of Mary, Ministers to the Sick, will be beatified in Spain. Back in June (see story in the Register), the Vatican declared them to be martyrs of the faith, along with 18 Benedictines, four Discalced Carmelites, one diocesan priest, 66 Marist Brothers, and two laymen.
Each martyr has a unique story of heroism but none more so than the four Servants of Mary whose identity was made known to their killers by something simple and powerful: the rosary. The sisters lived near Madrid in Pozuelo de Alarcón where the convent was home to elderly and convalescent sisters as well as active sisters who cared for the sick and dying.
In August of 1936, as the Spanish Civil War and religious persecution were raging, the sisters, whose convent had been confiscated and who not allowed to wear their habits, were told to evacuate the town. Mother Aurelia, who was an invalid, and Sister Aurora, who was 86 years old, remained behind with two younger sisters, Sister Daría and Sister Agustina. Mother Aurelia was known for saying: "We are in the hands of God… He knows that we are here." Sister Agustina, the youngest martyr, was Mother's caregiver. "When she could no longer wear her habit, she said that sometime soon she would be able to wear it again, and if they killed us, we would wear it in heaven for ever."
On December 1, Sister Agustina was separated from the other sisters and turned into the authorities under suspicion of being a religious because someone, it is believed, saw her praying the rosary. She was taken by soldiers and shot. The other three sisters' identities became known when a soldier picked up Mother Aurora and felt a rosary under her dress. Sister Daría confirmed this when she said, "Yes, we are Sisters." They were taken away and shot.
When a Servant of Mary joins the congregation she is given a rosary. As Sister Julia Castillo Ibáñez, General Postulator for the Cause, wrote, "Only by delving deeper with Mary into the mystery of Christ, can she effectively draw near the mystery of suffering humanity; only by keeping and contemplating the mystery of Christ in her heart like Mary will she find the right words and actions to alleviate and illuminate the night of suffering."