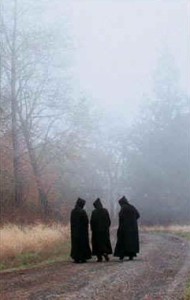 For those of you who wish to know more about the spirituality of St. Benedict and for those in particular who may be called to a monastic vocation, here is something exciting!
The Benedictine monks at St. Procopius Abbey in Lisle, Illinois, are offering a FREE, five-part online course in Benedictine Spirituality. Anyone can register on the St. Procopius Facebook page. Five emails, one sent each day, will cover the life of St. Benedict, Benedictine life and vocation stories. There will also be emails asking the students to reflect on each class. You can sign up for two sessions: the first one will run October 14-18, 2013, and the second, October 28 – November 1.
"We feel that St. Benedict's way of life, which includes living in community, common prayer, work, and private prayer, is just as important today as when St. Benedict was alive," said Fr. James Flint, OSB, vocation director of the abbey. St. Procopius Abbey was founded in 1885 and has 26 monks today. Prayer and conversion are at the heart of their life. At the same time, they serve in outside apostolates, especially in the schools that they founded: Benet Academy and Benedictine University.
For more information, contact Fr. James Flint, OSB, at 630-969-6410, or vocations@procopius.org.