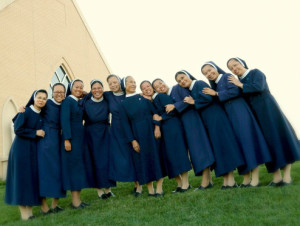 The third president of the IRL was Bishop Glennon P. Flavin, 7th bishop of Lincoln, Nebraska. He founded the community of the School Sisters of Christ the King amongst many other pastoral achievements. A fine biography of the bishop who died in 1995 can be found on the sister's website.
One of the lesser known things that the bishop did was to establish the first canonical Vietnamese parish in the U.S., a haven where refugees from the Vietnam War could worship in their own language and pass on their traditions and culture to future generations.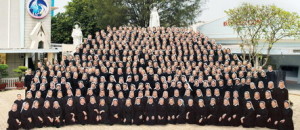 It was in 1985 that the Bishop invited three sisters from the Congregation of Missionary Sisters of the Blessed Virgin Mary, Queen of Mercy to assist the local Vietnamese community. This community of sisters was founded in the 1950's by Father Bernard Maria Bui Khai Hoan, CMC., in Saigon. In 1975, some of the sisters were forced to flee the country during the Communist takeover. They ended up in Australia in what they hoped would be a temporary exile. With tears they soon realized that they could not return home. God had other plans for them, far, far from home. While their Motherhouse is in Vietnam, their roots are now in U.S. soil for they were canonically established in the diocese in 1999.
Today, the sisters work in the diocese at a rehabilitation hospital, care for the bishop's residence, teach catechism at elementary schools and provide assistance at a Vietnamese parish. They also run Little Flowers Daycare.
However, says Sr. Rosaria Hoang, "the work we are doing is not important as to whom we are. With our witnesses to the religious consecrated life, we pray and hope that the Holy Spirit will 'tap' on those we have a chance to interact with and draw them all closer to him."