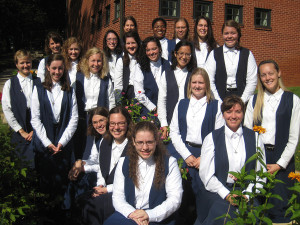 On August 28, 2013, the Dominican Sisters of Mary, Mother of the Eucharist, welcomed 19 (yes, nineteen!) young women as postulants. This follows on the heels of the announcement on July 31 that a Decree had been issued erecting their order as an Institute of Diocesan Right. Bishop Earl Boyea also approved their Constitutions. In 19 years, they have grown to 120 sisters!
When the story of the revival of religious life in America is written, one of the headliners will surely be the Dominican Sisters of Mary. Mother Assumpta Long, OP, was one of the women who was part of the IRL from the beginning and spoke out for the many sisters who increasingly felt voiceless as more "liberal" voices in religious life gained press attention. How grateful we are for her support and wisdom over the years.
Other items of interest gleaned from their latest newsletter includes the news that Sr. Mary Judith had the great joy on May 31st to attend her two (yes, 2) brothers' diaconate ordinations. Rev. Br. Nathan Caswell, S.J.C., and Rev. Br. Joshua Caswell, S.J.C., were ordained for the Archdiocese of Chicago as members of the Canons Regular of Saint John Cantius. Also, Sr. Agnes Maria experienced one of the most memorable days of her life when her little brother, Ricardo Pineda Jr., was ordained a priest forever for the Congregation of the Fathers of Mercy.
Another innovation that I wish had been in place at my Catholic College was inaugurated last year at The Catholic University of America and expanded this year. Called the Religious-in-Residence program, it is a program carried out in conjunction with Campus Ministry where the Dominican sisters minister to young women in the residence halls while pursuing graduate studies.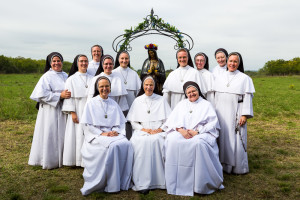 We are also blessed in the Chicago area to have four sisters teaching at two Catholic schools. Sr. Mary Judith and Sr. Teresa Paul teach at St. Benedict the African School in Englewood. It is an all African American school in a very challenging neighborhood. Sr. Mary Magdalene and Sr. Louis Marie teach at St. Ignatius College Prep which notes among its alumni some famous politicians (boy do we need good Catholic politicians), the comedian Bob Newhart and my pastor.
Finally, on September 21, two bishops celebrated the Rite of Blessing for the new OP convent in Georgetown, Texas. It is the first permanent residence for the sisters outside of their home base of Michigan.
Mother Assumpta said: I send a strong commitment to you and everyone in Texas that we are here to stay. I can now say unequivocally: we have sunk our roots in the rich Texas soil!
May God bless them from sea to shining sea! Did I mention they are also in California, Florida, Arizona and Ohio? And Rome?