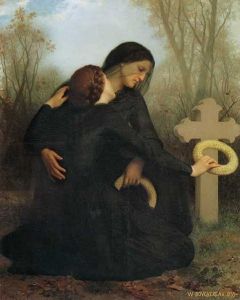 The Holy Father, Pope Francis, greeted 80,000 people during his general audience on Wednesday and reminded those present and all the baptized that the communion of the saints "goes beyond the earthly life, goes beyond death and lasts forever. This union between us goes beyond and continues in the afterlife. It is a spiritual union that comes from Baptism, that is not broken by death, but, thanks to that Christ who is risen, is destined to find its fulfillment in eternal life. There is a deep and indissoluble bond between those who are still pilgrims in this world, among us, and those who have crossed the threshold of death into eternity. All the baptized here on earth, the souls in Purgatory and all the saints who are already in heaven form one big family."
On November 2, All Souls Day, those of us who dearly miss loved ones who have gone before us can obtain a plenary indulgence for the Holy Souls. Here are two ways to do it:
1)     On November 2, visit a church or oratory and pray an Our Father and Creed
2)     From November 1 to 8, visit a cemetery and pray for the Poor Souls
The usual requirements for a plenary indulgence are necessary: confession within 8 days, prayers for the Holy Father, Holy Communion, be in a state of grace.
"An indulgence is a remission before God of the temporal punishment due to sins whose guilt has already been forgiven" (CCC 1471). A partial indulgence can be obtained anytime for the Holy Souls by praying: Eternal rest grant unto them, O Lord, and let perpetual light shine upon them. May the souls of the faithful departed, through the mercy of God, rest in peace. Amen.
 St. Alphonsus Liguori said, "Here let me make a digression in favor of those holy souls. If we desire the aid of their prayers, it is but fair that we should mind to aid them with our prayers and good works. I said it is fair, but I should have said it is a Christian duty; for charity obliges us to succor our neighbor when he requires our aid….Those souls are not ungrateful, and will never forget the great benefit we do them in relieving them of their pains, and in obtaining for them, by our prayers, anticipation of their entrance into glory; so that when they are there they will never neglect to pray for us."
May we remember especially the poor souls who have no one to pray for them.