Catholics throughout the world are encouraged to honor the cloistered and monastic life on Pro Orantibus Day ("For Those Who Pray"), which this year is celebrated on Thursday, November 21, 2013.
"The primary purpose of Pro Orantibus Day is to thank God for the tremendous gift of the cloistered and monastic vocation in the Church's life," said Rev. Thomas Nelson, O. Praem., National Director of the IRL. He added, "Since the lives of these women and men religious dedicated to prayer and sacrifice is often hidden, this annual celebration reminds us of the need to support their unique mission within the Body of Christ."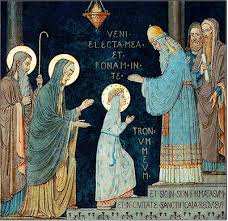 Recognizing the tremendous importance of this apostolate of prayer, Pope John Paul II asked that this event be observed worldwide each year on the Memorial of the Blessed Virgin Mary's Presentation in the Temple. Pope Emeritus Benedict XVI, addressing a group of cloistered Dominican nuns in Rome, referred to such religious as "the heart" which provides blood to the rest of the Body of Christ. Pope Francis has also demonstrated his love and support for cloistered religious by visiting with them during his trip to Brazil and during a visit to Poor Clares in Italy.
What can you do?
Pray for cloistered, contemplative priests, brothers and sisters
Say this beautiful novena in preparation for the feast day
Print these prayer cards (English and Spanish) and distribute to friends and family
Put this insert into the bulletin to explain to the parish what this day is all about
Give a donation to a local community. Most rely on alms for their upkeep.
Send a note of thanks
God bless you for all you do for our brothers and sisters "behind the walls." Only in heaven will we know how much their prayers and sacrifices have held up and protected the whole world.
Visit CloisteredLife.com for more information.
The cloistered religious featured on the 2013 Pro Orantibus Day logo are the Carmelite Nuns of the Immaculate Heart of Mary Monastery in Salt Lake City, Utah.