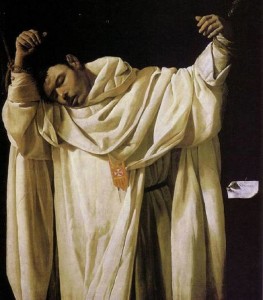 I seem to overdo posts on the Mercedarians but I love their fourth vow: to offer themselves as "ransom" in place of someone who is in danger of losing the faith. The picture to the right depicts The Martyrdom of Saint Serapion by Francisco de Zurbarán. Hung by ropes, he is obviously at the end of his life. A beautiful picture of self-sacrifice resembling Christ's image on the Cross.
Serapion was born in Ireland and entered the army of King Richard the Lion-Hearted. While fighting with the Christians as they were battling the Moslem army in Spain, he met St. Peter Nolasco and the Mercedarians. He joined their "army" and received the habit in 1222.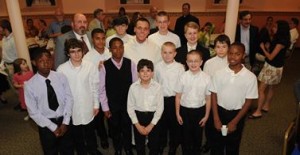 Serapion was captured in Algeria during his fourth redemption of a Christian held captive by the Moors. In this month when many of us are saying the Novena to St. Andrew, Serapion is a fitting martyr for he was nailed to an X-shaped cross, like Saint Andrew's cross, and savagely dismembered. The barbarian and cruel King of Algiers, Selín Benimarin, was the one who gave the Church and the Mercedarian Order this martyr on November 14, 1240.
The Mercedarians carry on their work today focusing their priestly ministry specifically at the service of those in danger of losing their faith from modern forms of captivity. They are celebrating the ordination to the priesthood of Fr. David Michael Spencer, O de M, who was ordained in November 17th. (Click here to see ordination video). Father Spencer is parochial vicar of Our Lady of Lourdes Church in Philadelphia.