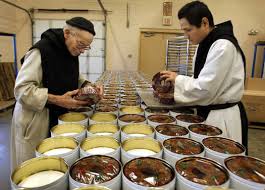 There is a charming article in the Kansas City Star about the Trappist (Cistercian Order of the Strict Observance) monks at Assumption Abbey in Ava, Missouri, who make a popular fruitcake. One could expect that these men, who live in silence most of the time, to be somber and introspective with one foot in heaven. One foot in heaven they may have and if so, heaven will be a lively place once they get there, God willing!
The monks are getting up there in years yet they still produce the fruitcakes and run the abbey as they have been doing for the last 60 plus years. It's getting more difficult as the monks age. Boniface is 87, Robert is 88, Thomas is 85. These are three of the monks who are the backbone of the abbey. Many of them were in the military in World War II when monastic life was viewed as a spiritual Marine Corps. Then Vatican II came, says Cyprian, and "it was no longer a favorable environment for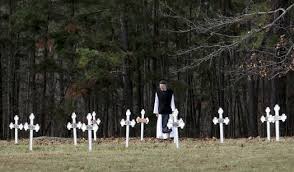 spiritual life." Cyprian says, "I've accomplished everything I've wanted except to join my brothers in the cemetery."
Thankfully, help is on the way. Monks from Vietnam are coming in stages to fill out the ranks. They will carry on with the fruitcake tradition, and may even mail some back to Vietnam, though Father Peter from Vietnam says, "Americans like very heavy food." The monks, in fact, used to make concrete blocks but now make fruitcakes. "We had to change the recipe slightly," Cyprian said. "And fruitcakes are easier to stack."
Boniface sometimes bakes over 40 loaves of bread a day. The difference between a cook and a chef, he says,  is that a cook has to do his own dishes. He also has a soup called MustGo soup. "I go through the refrigerator and say, 'This must go.'"
Assumption Abbey is a daughter house of New Melleray in Iowa and was founded in 1950. The Abbey produces an astounding 30,000 cakes annually, their main source of income. To place an order, click here!
O GOD, CREATOR OF ALL THINGS
BLESS NOW THESE CREATIONS OF OUR HANDS.
THAT THESE CAKES MAY BE RECEIVED
AS TOKENS OF YOUR LOVE
AND SHARED WITH FRIENDS AS HINTS
OF YOUR EUCHARISTIC FEAST.
WE ASK THIS IN THE NAME OF JESUS CHRIST
INCARNATE IN OUR MIDST.