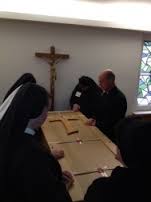 One of the most moving events during the beatification ceremonies of Blessed Maria Theresia Bonzel was the translation of her body from the Motherhouse in Olpe to a new adoration chapel in the Church of St. Martin in the same town.
I do not know if this is a normal occurrence during a beatification (I think it is) but it signifies something important. The beatified goes from "belonging" to a precious few to becoming a member of the worldwide family of God. I would imagine that the congregation feels like they are losing a little something of their own while gaining something of universal eternal value: the witness of their beatified son or daughter uplifted for the benefit of all.
Mother Maria Theresia is the foundress of the Sisters of St. Francis of Perpetual Adoration. They serve in Germany, the U.S., Brazil and the Philippines. In America, they have a thriving Province in Mishawaka, Indiana. These sisters sponsor the Sisters of St. Francis Health Services, a healthcare system which upholds the moral values and teachings of the Catholic Church (how refreshing!). They also serve in schools and colleges.
Within dioceses, they care for poor, sick, elderly, and incarcerated in imitation of the preferential option for the poor as practiced by St. Francis of Assisi and Mother Theresia.
Their most important "apostolate" is Perpetual Adoration in front of the Blessed Sacrament. What innumerable graces flowed down during adoration, Mother Theresia believed!
If you want more information about the Sisters, please visit their website. There is also a Come & See weekend for young adult woman, January 2-5, 2014.
Mother Theresia's motto was: "He Leads, I Follow."