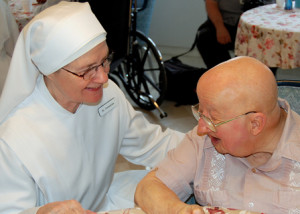 The Little Sisters of the Poor have announced a new live-in service program for single college-age women. Called "Spring Into Service," it is a chance to experience service to the elderly poor, prayer and community life in a faith-filled community of women religious.
You can stay as short as a week (eg. spring break) or commit to at least six weeks (eg. summer) with possible pay. No nursing experience is required.
The Little Sisters have 27 homes across the United States in places such as San Francisco, Gallup, Baltimore, Chicago, Washington DC, Denver, Mobile, St. Paul and others.   There is also a possibility of overseas placements.
Having been a volunteer for several years in the home in Chicago, I know first-hand what a wonderful experience this is. First of all, the residents are so happy to have cheerful, young people to talk to. Many of these poor elderly have no family; no one who comes on Easter or Christmas or even family that sends a note of encouragement. Secondly, the Little Sisters are so hospitable and the spiritual blessings that fell on me are too numerous to mention. No matter what your vocation in life may be, this opportunity will leave an imprint that will last a lifetime.
For more information, download their flyer .