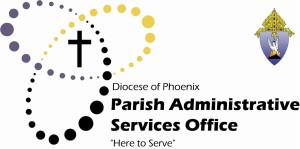 If you know of someone who can fulfill this position, please pass on the information!
Director, Office of Consecrated Life
 To support the Diocese of Phoenix in its mission of encountering the Living Christ, this position assists the Bishop by acting as his liaison to those women and men in consecrated life and assigned to the Diocese of Phoenix in all matters directly related to the local church. This position reports to the Chancellor for day to day activities including office management, diocesan communications and budgeting.
Essential Job Functions: Officially represents those living a consecrated life in the Diocese of Phoenix in all matters directly related to the local church by communicating the concerns and their needs to the appropriate diocesan administrative level; by meeting regularly with the Bishop; by representing those in consecrated life at official diocesan functions; and by visiting with individuals and communities of consecrated women and men; Collaborates with the vocation director of the Diocese of Phoenix to assist parishes, high schools and Newman Centers in their work of fostering vocations, Establishes an advisory board to receive input and recommendations from members appointed by the Bishop for policies and programs of the Office of Consecrated Life; Serves as a contact person as needed when positions open in various ministries in the Diocese; Disseminates information from the Diocese, USCCB, and Holy See to members of Consecrated Life; Assists those in consecrated life who seek counsel and/or spiritual direction by developing resources such as lists of therapists, counselors, and spiritual directors, as needed; by offering support as requested to those who are on leave of absence or exclaustration; Collaborates with the Vicar for Priests in matters related to counseling assistance through the Religious and Priest Assistance Program; Proposes educational, enrichment, and spiritual growth programs for those in Consecrated Life in collaboration with the Bishop; Coordinates activities and provides opportunities for education about consecrated life and community building with diocesan priests, deacons, and seminarians; Serves as initial contact person for those discerning consecrated life; Develops technology resources to promote vocations and discernment for consecrated life; Works in collaboration with the Vicar for Priests to foster opportunities for dialogue about consecrated life between priests and sisters/brothers in the Diocese; Develops outreach presentations to lay community about consecrated life; Coordinates the appeal for consecrated persons who are retired; Performs any other job-related duties the position requires or that are discerned by the Bishop and Director of Consecrated Life.
Knowledge, Skills and Abilities Required: Knowledge of and grateful commitment to the Church's teaching on consecrated life; Ability to explain the vocation and mission of consecrated persons in the Church; Ability to take initiative in fulfilling tasks in a professional manner, keeping the Bishop advised of progress in relation to assigned duties; and the ability to keep abreast of trends affecting those in consecrated life; Ability to preserve confidentiality of sensitive personal and business information; Working knowledge of the Church at a diocesan level; familiarity with the Code of Canon Law as it pertains to those in consecrated life; Excellent communication and organization skills; Ability to be sensitive to cultural diversity and justice issues and to needs of the people; Ability to make decisions regarding individual and program needs and operate independently with little direct supervision; Ability to travel throughout the diocese if required for committees, special programs, meetings, celebrations and visits to individual and local communities of consecrated life; Technology skills, emphasis on social media and technology related resources to promote vocations.
Minimum Qualifications: Master's Degree in theology, counseling, human resources or other appropriate discipline; Experience with formation work or a leadership position within an Institute of Consecrated Life; Excellent understanding of the Church's teaching on Consecrated Life in the Church; Fluency in English and Spanish.
To apply, please send cover letter and resume to:
Human Resources
400 East Monroe Street
Phoenix, AZ 85004
applicants@diocesephoenix.org