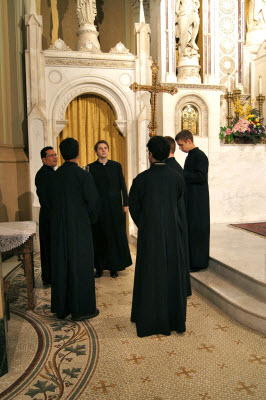 A new student movement is sweeping the country like wildfire through a dry pasture! Called Juventutem, it now has eleven chapters in places such as New York, New Jersey, Kentucky, Miami, Chicago, DC and New Hampshire. The first chapter in the USA was only established in 2012 but look how quickly it has spread!
Click here to read the impact it has had on students at Harvard!
Juventutem is comprised of young Catholics who pursue a life of holiness by attending the Traditional Latin Mass and by embracing other timeless traditions of the Faith.  The International Juventutem Federation was founded on the Feast of Our Lady Help of Christians on May 24, 2006 in Berne, Switzerland, though a delegation attended World Youth Day in Cologne, Germany in 2005.
The name 'Juventutem' itself is the Latin word for youth and it appears in the opening lines of the traditional Mass (Introibo ad altare Dei. Ad Deum qui laetificat juventutem meam. "I will go in to the altar of God; to God, the joy of youth."). The phrase comes from Psalm 43:4.
The US chapters are affiliates of the Fœderatio Internationalis Juventutem (FIJ), whose members work for the sanctification of youth – both at World Youth Days as well as in the local dioceses and parishes. Recalling St. John  Bosco's dream of the the "three whitenesses", the members of Juventutem profess a great love for the Holy Eucharist, the Blessed Virgin and the Holy Father.
The commitments of each individual who joins Juventutem are:
to pray the psalm Judica me (Psalm 42:1-3) or some other prayer each day for the sanctification of youth
to visit a church and adore Our Lord, once a week (can be before or after Sunday Mass)
to attend the Traditional Latin Mass (TLM) at least once a year
to go to confession at least once a year
to participate in at least one Juventutem event per year
to annually support the International Juventutem Federation head office with prayer and funds
Said one Harvard student, "I have no idea who chose to begin Juventutem here. I do know that Harvard is a great place to find fiery, idealistic young people willing to put their lives into this outlandishly awe-inspiring Mass."
For more information, visit their website. Also, for those interested in attending mass in  the Extraordinary Form, the IRL will be celebrating the TLM mass during its National Meeting (April 25-27, 2014). See our website for details!