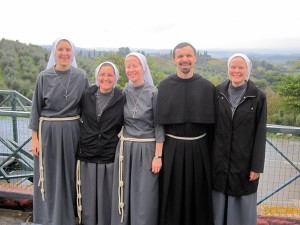 This summer, Fr. Matt Russick, T.O.R., is going to cycle more than 250 miles of rail trails across 4 states to raise money for the Franciscans' ministries to the poor in Steubenville, Ohio. Father's goal is to reach $5,000 by August 1 when he will arrive, God willing, back in Steubenville.
At the Heart of Mary Mission House in downtown Steubenville,the sisters serve the poor, the sick and the oppressed, sharing the good news and instilling hope and healing. They also coordinate a ministry at Samaritan House Thrift Store, a clothing store and emergency food center. In addition to this, the sisters also run a catechetical soup kitchen.
Father's trip will begin in Hancock, Maryland, and will probably follow the Chesapeake & Ohio Canal, the Great Allegheny Passage and the Panhandle Trail. If you would like to donate to help this worthy cause, pledges can be made through PayPal on their Pedaling for the Poor fundraising website. Donations may also be made by check, payable to Franciscan Sisters, T.O.R. with "Pedaling for the Poor" in the memo line. Please send checks to Franciscan Sisters, T.O.R. 369 Little Church Road, Toronto, OH 43964.
"Our ministry aims to restore the dignity of those who through poverty, various forms of oppression, or suffering, have lost the sense of their preciousness as being a son or daughter of God" (Constitutions 88).