Sometimes a picture is worth a thousand words.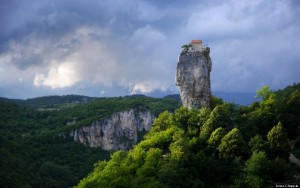 This is a photo of a stylite's hermitage atop a great stone pillar. A stylite is a person who lives atop a pillar, enduring the solitude and natural elements for love of God. The most famous of them was St. Simeon Stylites who lived in what is now Syria in the 5th C. He lived atop a pillar for over 35 years!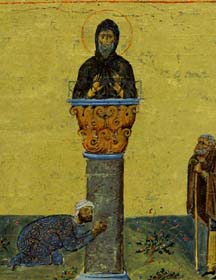 This is an image of the pillar-hermit St. Simeon Stylite from a 10th C manuscript. Apparently, his pillar reached the height of 50 feet. He died in 459.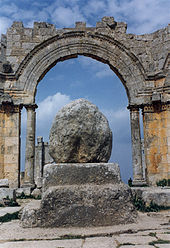 St. Simeon's pillar became encased in the center of an octagonal courtyard and complex of buildings. St. Simeon's pillar can still be seen in the center of the courtyard, although it is now less than 7 feet high. St. Simeon's relics were mainly taken to Antioch. Pray that the current civil war does not destroy this ancient memorial.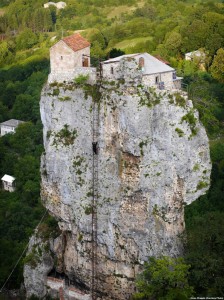 The hermitage in the above photos, located in the country of Georgia, is a 30-foot rock outcrop called Katskhi that was used by Christians until the 15th century. In the 1940's climbers discovered the bones of the last  inhabitant and and the remains of a chapel.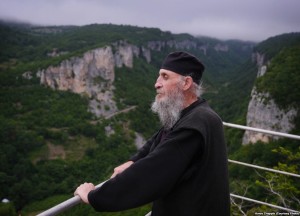 Looking at the pillar too was Maxime Qavtaradze, a "bad boy" who sold drugs and ended up in jail. "I used to drink with friends in the hills around here and look up at this place, where land met sky. We knew the monks had lived up there before and I felt great respect for them." In 1993 Maxime professed monastic vows and began his new life atop the pillar. A little community has formed around him, including priests and troubled people seeking guidance.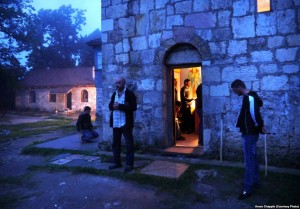 You can order the documentary, Upon this Rock, about Maxim's life and hermitage.  Proceeds will support the restoration. The Huffington Post also has a great story on Maxime and stunning photos.