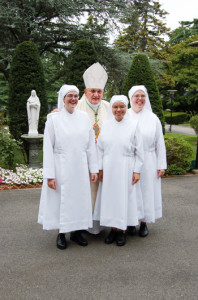 On Saturday, July 19, three young women made their first profession of vows of chastity, poverty, obedience and hospitality as Little Sisters of the Poor at St. Ann's Novitiate in Queens Village, NY.  Bishop David Zubik of Pittsburgh was the main celebrant and homilist.
Following is a brief introduction of the new Little Sisters:
Sr. Amy Catherine Joseph (Hagedorn), a native of Indiana, met the Little Sisters while a nursing student in Evansville. She received her first obedience for their Home in Philadelphia.
Sr. Elisabeth de l'Eucharistie (Dugré), from Québec, Canada, met the Little Sisters while working as a baker in Montréal. In addition to her culinary skills, Sister Elisabeth is an accomplished flutist. Her sister played the cello for the Profession ceremony, and her mom sang a beautiful meditation hymn in French! Sister Elisabeth was assigned to their Home in Dinan, France, the third home of the Congregation and the site where St. Jeanne Jugan worked with the Brothers of St. John of God to draft the original Constitutions of the congregation.
Sr. Maria Carmen Therese (Ozuna) was born in Mexico but then migrated to the United States, settling in the Philadelphia area. Sister Maria Carmen worked as a child care provider before entering their congregation. Her sister performed a beautiful meditation hymn in Spanish during the ceremony. Sister Maria Carmen Therese is headed to Jeanne Jugan Residence in Washington, D.C.
Click here to enjoy a slide show of the new Little Sisters!