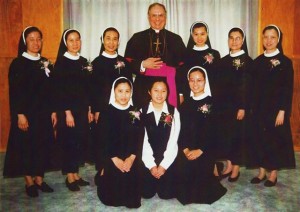 The Congregation of the Missionary Sisters of the Blessed Virgin Mary, Queen of Mercy, is a new IRL Affiliate Community located in Lincoln, Nebraska. Originally founded in Vietnam, the sisters are now a Diocesan Congregation established in 1999 by Bishop Fabian Bruskewitz.
What, you may ask, are Vietnamese sisters doing in Lincoln? Like many Vietnamese, some sisters were forced to flee as the Communists advanced. Eventually, via Australia and Missouri, they ended up in the diocese of Lincoln.
Sister Rosaria Hoang was one of the original sisters. As a 22 year-old, she was one of 34 sisters who were placed on the last Australian Air Force flight out of Vietnam. They thought their exile would be temporary. But after the fall of Saigon and the ensuing persecution of the Church, they knew this was not to be.
"We all go into the chapel, all the sisters. We cry. We pray. We encourage each other to restart our lives, outside of Vietnam," said Sister Rosaria. Bishop Patrick Flavin, the late bishop of Lincoln, asked three of Missouri sisters, including Sister Rosaria, to come with him to Lincoln and work with the community's Vietnamese refugees.
The Lincoln sisters are teachers, child care providers (Little Flower Child Care Center), religion instructors, nurses and assistants to the bishop. They also remain on-call as interpreters for the Social Security Administration. And supportive of their sisters in the community in Vietnam.
"However, the work we are doing is not important as to whom we are," Sister Rosaria said. "With our witnesses to the religious consecrated life, we pray and hope that the Holy Spirit will 'tap' on those we have a chance to interact with and draw them all closer to him."
See a wonderful story on them in the Journal Star.