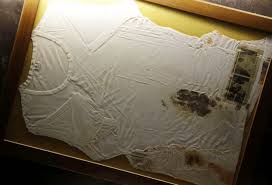 On May 13, 1981, Anna Stanghellini, was privileged to be a nurse in attendance at the "Agostino Gemelli" Hospital where Pope John Paul II was taken for emergency surgery after the assassination attempt on his life. To save time, his blood-soaked undershirt was cut away and dropped to the floor. Anna picked it up, carefully wrapped it and kept it in her home for the next 19 years.
In 2000, she gave this relic to the Provincial House of the Sisters of Charity of Saint Vincent of Paul with whom she had once been in the novitiate. The Vatican had doubts about the authenticity, so Sister Beatrice, the former Provincial, reluctantly loaned it to them for examination. Happily, it was soon returned and today is in a side chapel of the Provincial House on via Francesco Albergotti.
Blood stains are visible on the shirt, as are three bullet holes and the initials "JP" on the collar. Documents attesting to its authenticity are also on view.
Sister Amelia, the Superior of the "Regina Mundi" House (a home for the elderly and sick religious), says: "It's a gift and a responsibility. It's a gift because we feel honored to be the custodians of such a precious and significant relic of the Holy Father; a responsibility because we have made ourselves available to receive all the people who come here to pray."