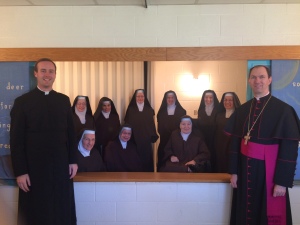 On November 1, 2014, the Carmelite Nuns of the Ancient Observance of the Carmel of Mary in Wahpeton, North Dakota, celebrated the 60th anniversary of their foundation. It was an eventful day, a triple event―the celebration, a bishop and an election― making it all the more memorable.
Back in 1954, seven sisters left the Carmelite Monastery in Allentown, PA, to settle in the northern plains. Being that it was a Marian Year, it seemed appropriate that the new Carmel should be named in honor of Our Blessed Mother. Bishop Leo Dworschak, who had issued the invitation to come to the diocese, wanted a Marian monument to commemorate the year, and in his opening Mass on November 1, he stated: "This is a great day for the Fargo diocese!"
To celebrate this year's occasion, Bishop John Folda of Fargo offered Holy Mass at the monastery with the chancellor, Father Luke Meyer; the chaplain, Father Jim Tiu; and a former chaplain, Father William Ovsak concelebrating. The local Lay Carmelites were also in attendance.
Following the Mass, triennial elections were conducted in which Sister Madonna was elected prioress, followed by Sister Mary Ruth, First Councilor, and Sister Joseph-Marie, Second Councilor. A luncheon was served for the attendees after which Bishop Folda visited with the Community and expressed his great joy in having a cloistered Carmelite monastery in the diocese. They are the bishop's prayer warriors!
At the Carmel of Mary, the nuns observe strict papal enclosure and center their lives on the solemn celebration of the liturgy. The monastic day begins at midnight when they rise from their warm beds, in the dark of night, to praise of God and offer intercessory prayers the world. The nuns chant The Liturgy of the Hours in common seven times throughout the day. They pray especially for the needs of priests, of the Church, and of the whole world.
The sisters welcome prayer intentions (and vocation inquiries!)
Carmel of Mary
17765 78th Street SE
Wahpeton, ND 58075