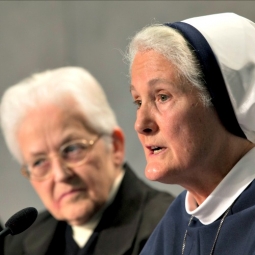 On December 16, 2014, the final report of the apostolic visitation of U.S. women religious was released by the Vatican. The apostolic visitation's purpose was "to look into the quality of the life of religious women in the United States" amid concerns about the rising median age of religious, lack of vocations and the rise of secularism in some communities.
Addressing the media were the current prefect of the Congregation for Institutes of Consecrated Life and Societies of Apostolic Life (CICLSAL), Cardinal João Braz de Aviz, and the congregation's secretary, Archbishop Jose Rodriguez Carballo, OFM. Also present were Mother Mary Clare Millea, ASCJ (Apostolic Visitator); Sr. Sharon Holland, IHM, of the LCWR; and Mother Agnes Mary Donovan, SV, of the CMSWR (who will receive the IRL's 2015 Pro Fidelitate et Virtute award at this year's National Meeting in April. Mother Mary Clare was the recipient of the 2013 award).
Despite some communities' initial concerns regarding the purpose of the apostolic visitation, the general reaction from those involved was overwhelmingly positive.
Some highlights:
341 religious institutes of both diocesan and pontifical right, encompassing approximately 50,000 women religious, were visited.
The median age of apostolic women religious is in the mid-to-late 70s. The number of religious has declined from 125,000 in the mid 1960's to 50,000 today.
The majority of women religious have a strong sense of the history of their institute and the charism of their foundress/founder
The majority of the religious institutes work with lay collaborators. However, the essential difference between the vowed religious and these lay persons should be respected and celebrated.
Aspirants to religious life tend to be older, more educated, and more culturally diverse than in the past. They often have extensive professional backgrounds but less prior theological and spiritual formation. Many wish to be externally recognizable as consecrated women (ie. habits).

Caution is to be taken not to displace Christ from the center of creation and of our faith

. Institutes should ensure that their spiritual practices and ministry are in harmony with Catholic teaching about God, creation, the Incarnation and the Redemption.
Our times need the credible and attractive witness of consecrated religious who demonstrate the redemptive and transformative power of the Gospel. Convinced of the sublime dignity and beauty of consecrated life, may we all pray for and support our women religious and actively promote vocations to the religious life.
Click here to read Ann Carey's (Sisters in Crisis) assessment of the document.