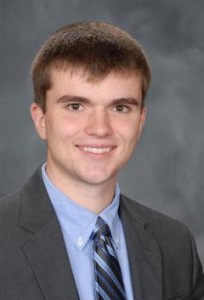 The IRL is pleased to announce the hiring of Michael Rawls as its full-time Office Coordinator. Today, July 13th is his first day of work.
Michael grew up in the western suburbs of Chicago and is the youngest of four children. He attended Aurora Central Catholic High School where he participated in several sports. Beginning in seventh grade, he worked as a caddy at a local golf course and eventually served as a manager of the junior golf course affiliate during high school and college.
Michael attended the College of DuPage before transferring to the University of Notre Dame the spring of his sophomore year.

While at Notre Dame, Michael majored in History and Theology with a concentration in Medieval History. His capstone project examined the diplomacy of the Vatican during World War II. The University offered many opportunities that Michael took advantage of allowing him to grow. He served on Hall Council for his dorm, Morrissey Manor, and helped to found the Notre Dame Catholic Identity Council which seeks to provide a collaborative space for clubs and other organizations at the University with a faith based mission. The Militia of the Immaculata (MI) movement has played an integral role in his life particularly in college. Michael has been a member of the MI for most of his life attending and leading youth camps, young adult groups, as well as, leading the Notre Dame MI group as its president. Michael sought an opportunity where he could continue to grow following his graduation and build upon the formation he received throughout his college years.
The position of IRL Office Coordinator is a tremendous fit for Michael. Having attended several National Meetings, including this past year's in which he brought 20 other students from the University of Notre Dame, Michael understands the importance of the IRL's mission. He is edified by the founder, Servant of God Fr. John Hardon S.J., and is committed to carrying on his legacy by working to promote and support the consecrated life.
We welcome Michael as our new Office Coordinator and ask prayers that God will bless him and our efforts to build up the Kingdom through the gift of the consecrated life.