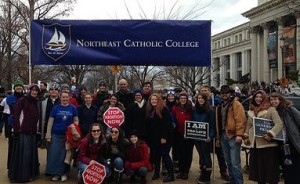 The IRL has many Affiliate communities of the religious persuasion but only  few select colleges are listed on our web page!
One noteworthy establishment of higher education is Northeast Catholic College, formerly known as The College of Saint Mary Magdalen. This Fall they welcomed the largest student body in the college's 42-year history. It is a small college but the Class of 2019 is twice the size of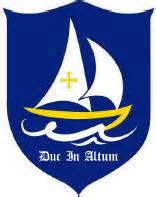 last year's class. They also retained 100% of the freshman from last year and the overall retention rate is 95%. Students who go there obviously love it!
The college occupies 135 beautiful acres on Mt. Kearsarge in Warner, New Hampshire. It was established as a residential, Catholic liberal arts college and seeks—through the rigorous study and discussion of primary texts and through its vibrantly Catholic student life—to call their students to the life-long pursuit of intellectual and moral virtue, following Christ who is the source of all virtue.
Four documents form the core of their identity and self-understanding as a college:
Pope Saint John Paul II's Encyclical Fides et ratio
Pope Saint John Paul II's Apostolic Constitute Ex corde ecclesiae
Pope Benedict XVI's "Address to Catholic Educators" (2008)
Blessed Cardinal John Henry Newman's Idea of a University
Their theologians seek the  Mandatum from the bishop so parents seeking to ensure that their children receive the fullness of the Faith at a Catholic university should consider Northeast Catholic college where the truth is presented in all its beautiful clarity.
In the spring of 2016, the college will welcome Cardinal Raymond Burke who will lead sung Morning Prayer, offer several conferences for the students and members of the community, and celebrate Mass at St. Joseph Cathedral in Manchester, New Hampshire.
They also have a program in Norcia, Italy, in association with the Benedictines who reside there at the birthplace of Sts. Benedict and Scholastica. The community in Norcia was founded by Fr. Cassian Folsom, O.S.B., and is an IRL Affiliate.
Dr. George Harne, President of the college said: "As our collegiate community continues to grow, we will advance our mission to renew the Church we love and the society we seek to serve."
We invite you to visit us.  Join us in class.  Join us at Mass. Come see how God is blessing us as we seek to follow Him in fidelity.