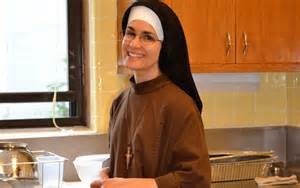 I only watch three shows on cable TV – Hogan's Heroes, the Weather Channel and the Food Network's "Chopped." So it was a thrill to watch the special "Chopped" Thanksgiving special to see a member of one of our Affiliate Communities compete to win the $10,000 prize.
Sr. Alicia Torres of the Franciscans of the Eucharist of Chicago was one of four contestants selected from the many who serve the underprivileged in soup kitchens around the country. Some months ago, "Chopped" called our office asking for the names of potential "sister" cooks. Fr. Bob Lombardo, CFR, the superior of the community and IRL Board Member, also heard the word and was able to propose Sister Alicia.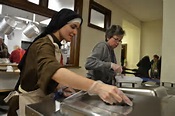 Sr. Alicia wowed the judges during every round.  Each show, the contestants are asked to open up a mystery basket of ingredients and transform them into an appetizer, then a main dish, and finally a dessert. During each round, one cook is eliminated. During this episode, each basket contained in various manifestations turkey, potatoes, cranberries and green beans. How she made the final dessert from that concoction of ingredients was truly imaginative!
The judges were amazed that someone with no formal cooking education could be so gifted. She has chosen to use those gifts for the greater glory of God. Her love for her Spouse, Jesus, and that love outpouring to others is what animates her and her cooking. "When I cook, I want to share that love, and I try to put care into everything that I make for every person that I serve," she said in a WGN interview.
The $10,000 prize money won as the last "Chopped" cook standing will be used to restock their food pantry. For Christmas, she will be cooking for 1400 people in their west side neighborhood from their Mission of Our Lady of the Angels.
Congratulations Sister Alicia!