For the Jubilee Year of Mercy, the IRL is pleased to introduce this special icon entitled "Merciful Like the Father" in honor of this extraordinary year in the life of the Church. Written by Vivian Imbruglia, it draws one into the message that the Holy Father hopes to bring to the world. God is a merciful Father. Jesus is the Good Shepherd who will leave the 99 sheep to go in search of the one lost soul. Mary is our Mother whose mantle embraces all.
We were honored to have Fr. John Grigus, OFM Conv., bless the icon at the filled-to-capacity Mass on the Solemnity of the Immaculate Conception at Marytown in Libertyville, IL, on December 8th. The icon can be seen in the Eucharistic adoration chapel, where adoration of the Blessed Sacrament takes place 24 hours a day.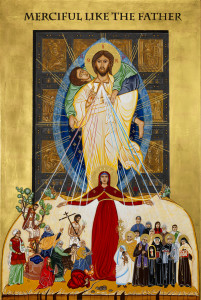 In the center of the icon is Jesus, the Good Shepherd, taking upon his shoulders the lost soul, who has one eye open, illustrating that all it takes is one look at Christ to bring about a transformation. The rays emanating from Jesus are reflective of the Divine Mercy image, the Blood and Water flowing from the Heart of Jesus.
Jesus stands in front of the Holy Door, opened by Pope Francis on December 8th at St. Peter's in Rome. "Anyone who enters will experience the love of God Who consoles and pardons and instills hope" (Misericordiae Vultus). Marytown is also a designated as a Year of Mercy Holy Door pilgrimage site.
The Blessed Virgin, Our Mother of Mercy, embraces the whole world with her outstretched hands. To her left, the figures are instances in the Gospel when people encountered God's mercy: the Samaritan Woman, Zacchaeus, Matthew, the Woman who anointed Jesus' feet, the Prodigal Son, the Repentant Thief, St. Peter, and the Parable of the Lost Coin.
On the right side are saints who made Divine Mercy their special mission in life: Mother Teresa, St. John Paul II, Padre Pio, St. Faustina, St. Maximilian Kolbe (whose National Shrine is at Marytown), St. Therese of Lisieux. The other figures represent the people of God who participate in the saving work of  Christ.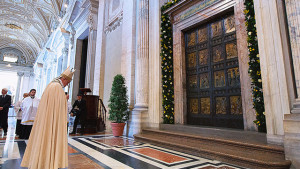 "In passing through the holy door, then, may we feel that we ourselves are part of this mystery of love," said Pope Francis. "Let us set aside all fear and dread, for these do not befit men and women who are loved. Instead, let us experience the joy of encountering that grace which transforms all things."
To order holy cards, triptychs, note cards, etc. visit MercyIcon.com or call the IRL office at (847)573-8975. To read about the opening of the Holy Door at St. Peters, visit the National Catholic Register website. To watch the opening of the Holy Door, visit Salt & Light TV.