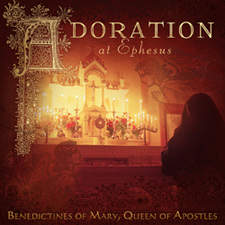 The Benedictines of Mary, Queen of Apostles, have recently issued their newest album, adding to the selection of their other very popular albums of songs and chants that give glory to God. Entitled "Adoration at Ephesus," it is a collection of songs sung by the nuns when they gather together for Eucharistic Adoration.
The album contains 24 tracks in Latin and English and includes such favorites as: Holy God, We Praise Thy Name, Adoremus in Aeternum, Ave Verum, Panis Angelicus, Jesus My Lord My God My All, and many other well-known and not-so-well-known classics.
The nuns' previous albums have risen to the top of Billboard's Classical Traditional Artist's list for three years running. They are tapping into to the world's innate desire to lift up their hearts to God, finding peace to that restlessness that St. Augustine says can only be found in Thee.
All proceeds from the album will go towards the nuns' new monastic church fund. The chapel that they pray in is only a temporary one. "As the community grows and the hospitality apostolate expands," said Mother Cecilia. "the necessity of undertaking the design and building of a new church has become a pressing reality."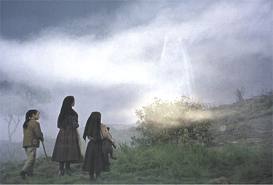 Mother also noted the link between Fatima and Adoration, for this spring marks the 100th anniversary of the first appearance of the Angel of God to Lucia, Francisco and Jacinta in 1916 in Portugal. In the first apparition, the Angel told the shepherd children to kneel and repeat this prayer: "My God, I believe in Thee, I adore Thee, I hope in Thee and I love Thee. I ask pardon for all those who do not believe in Thee, do not adore Thee, do not hope in Thee and do not love Thee."
"I was simply astounded that our album corresponds so perfectly and intimately with the message he brought to the children and the world," said Mother Cecilia. "If one word had to be chosen to summarize that message, it would be: adoration. We pray that all souls will adore our Eucharistic Lord with great faith, love, reverence and thanksgiving!"
To read the complete story, visit the Catholic News Agency.