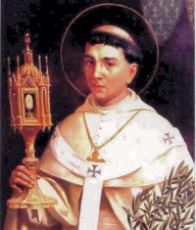 Today the Church celebrates the feast of the founder of the Norbertines, St. Norbert of Xanten. St. Norbert grew up enjoying worldly pleasures, however, after experiencing a dramatic conversion went on to bring the light of Christ into the world through his life as a religious priest and bishop.
St. Norbert was born in the latter half of the eleventh century in present-day Germany. He was the son of a count and enjoyed worldly pursuits during his youth. One day, however, St. Norbert was thrown from his horse when a sudden bolt of lightning caused his horse to buck him off his saddle during a terrible storm. This incident spurred a great conversion within the young man and he sought the guidance of a local abbot.
Following his conversion, St. Norbert pursued a priestly vocation and was ordained in Cologne. He quickly became a well-known itinerant preacher and gathered disciples who joined him in working for the salvation of souls. This group grew large and St. Norbert was unsure of what the Lord wanted them to do.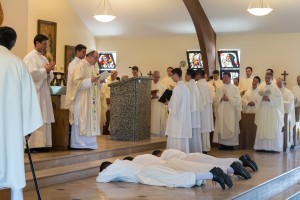 This uncertainty ended when, according to Bl. Hugh of Fosses, St. Augustine appeared to St. Norbert and said, "I, whom you see, am Augustine, bishop of Hippo. Behold, you have the rule which I have written, under which, if your confreres, my sons, fight well, they will stand secure before Christ in the terror of the last judgment." Following the apparition, St. Norbert and his first disciples made their religious profession on Christmas Day 1121.
The order quickly grew and now the Norbertine Fathers of St. Michael's Abbey continue the work of their founder. The Norbertine Fathers lead lives of communal prayer and care for souls in Southern California. Their primary mission is to consecrate the entire day to God but also have many apostolates including running a preparatory school for young men. Steeped in 900 years of tradition, the Norbertine Fathers of St. Michael's Abbey continue to lead lives fashioned after their founder, St. Norbert of Xanten.