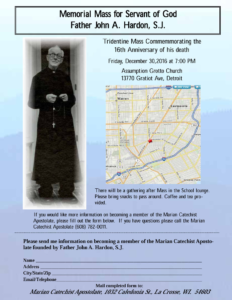 The annual Father Hardon Memorial Mass will once again take place on Friday, December 30, 2016, at 7:00 PM at Assumption Grotto Church in Detroit, Michigan.
It will be a Tridentine Mass commemorating the 16th anniversary of the death of the Servant of God, Fr. John A. Hardon, S.J., founder of the IRL.
If you would like additional information, please contact the Martian Catechists at (608)-782-0011.