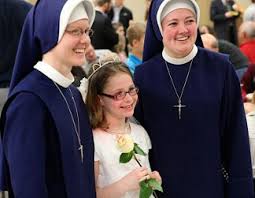 On the closing day of the Year of Mercy, November 20, 2016, Bishop James Conley announced during Mass at the Villa Regina Motherhouse of the School Sisters of Christ the King that the congregation will be raised to an Institute of Diocesan Right.  The celebration  of this joyous occasion will take place on November 26, 2017, the Solemnity of Christ the King.
What an appropriate day to celebrate this milestone in the life of the Nebraskan community for their mission is to bring about the reign of Christ through the apostolate of Catholic education. "As Brides of Christ, Daughters of the Church and Mothers of Souls, we devote ourselves to reflect His love, teach His truth and form His image in souls in the schools of the Diocese of Lincoln."
The School Sisters were founded in 1976 by Bishop Glennon Flavin who rather than bemoaning the exodus of sisters from the classroom, founded an order of his own in the Diocese of Lincoln to carry on the teaching of the Faith into the third millennium. Through Catholic education, an apostolic laity is formed — so that Christ may reign!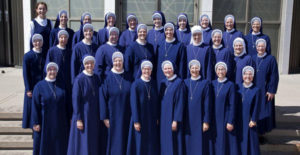 "…education is based on the knowledge and truth of Jesus Christ. Without Jesus at the heart and center of our school, every educational endeavor that we embark upon will not be as effective as it needs to be. Christ must be the center of all that we do, assisting us in preparing students who will be outstanding leaders during their sojourn on earth and holy, prayerful saints once they reach heaven. -Sr. Mary Cecilia, C.K., Principal of St. Joseph School
The 30 or so sisters currently serve in 6 parish schools and assist in several others. For more information, visit: CKsisters.org.