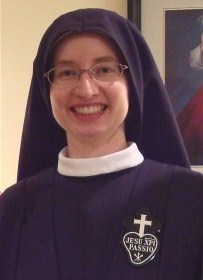 Lest anyone doubt the fruitfulness of  the "Nun Runs" I cite the recent example of a young woman from Minnesota who went on a "nun run" with 12 other young women from the University of St. Thomas. They visited  ten different convents in ten days in March of 2007, one which was the home of the Passionist Nuns in Whitesville, KY
The Passionists are one of the least known of our nation's contemplative, cloistered communities so I am thankful that these young women made the long trek to Kentucky to experience their life.  Founded by St. Paul of the Cross, the Passionist Nuns are "Consecrated as brides of the Crucified by their holy vows, they live solely for the Christ and His Body, which is the Church…The Passionist Nuns vow to live in the light of the self-sacrificng love of Jesus."
As the "Nun Run" van pulled into the Passionist driveway, one of the young women said to Ane Kirstine Wynn, "This is so exciting. Maybe one of us has a Passionist vocation! You might have a Passionist vocation!"  Her words proved to be prophetic as Kirstine found herself drawn to the Passionst way of life.
Kirstine, a Lutheran convert,  returned two years later for her three month aspirancy. After a year as a postulant, she received the beautiful Passionist habit and her religious name: Sr. Cecilia Maria. Finally, on February 2, 2013, the Feast of the Presentation of the Lord, she pronounced the five Passionist vows of poverty, chastity, obedience, enclosure and the vow to keep the Passion of Our Lord alive in her heart and in the hearts of the faithful.
Within the Church, the Passionist Nuns are called to be a sign of the love of Jesus Crucified for the Father and for mankind. By their unceasing contemplation of the Paschal Mystery of Jesus, the greatest and most overwhelming work of God's love, they are certain of contributing to the fullness of the Church's presence to mankind…convinced of the absolute necessity of God's grace for the fruitfulness of the apostolate, they offer their unceasing prayer and joyful penance that God send zealous workers into His harvest, convert sinners and open the minds of non-Christians to hear the Gospel.