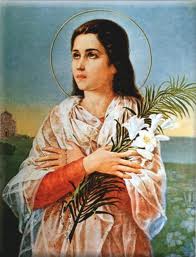 Young men and women from St. Mary's parish in the Diocese of Sioux City, Iowa were inducted into groups focused on chastity during a Mass celebrating the feast of Our Lady of Guadalupe earlier this month.
About 10 to 15 young women were received into the women's chastity group, with St. Elizabeth of Hungary and St. Maria Goretti named as their patron saints. Upon entering the society, they received a rose and promised to pray the Rosary before Mass for the chastity and fidelity of young men. They promised to be chaste and devoted to Christ until they married or found a religious vocation.
"They promised to demand they be respected as women and that guys and boyfriends treat them with respect, not trying to get anything more than a quick kiss, hug or hold their hand," said Father Jeremy Wind, parochial vicar at St. Mary's. "They promised to pray for their future husbands, future religious communities or their current boyfriends."
Fr. Wind also launched a young men's group at the Mass, called the Warriors of the Lord. He had the young men who were under 18 promise to pray one hour in adoration every week for girls who are being taken advantage of. They promised to remain chaste for the sake of their future bride.
Older men promised to be active, faithful Catholics. They promised to pray for the women in their lives, and to treat them with love and respect.
"They promised not to let pornography, contraception, sterilization, vasectomies, etc. into their homes," said Father Wind.
"They knelt down before the altar. I had a Knights of Columbus sword. I pointed it to the cross and I asked them if they were willing to follow Jesus Christ, even if it meant, if necessary, they had to shed their blood," added Father Wind. "They said, 'I do.' Then I gave them a nice swift crack with the sword across their back."
There's more: At the Mass, Father Wind informed the congregation that he asked the Spanish speaking stores to allow their workers to go to church on Sundays. The stores are open on Sundays and have their employees work. Four of the five stores agreed.
Kudos to Father Wind for making a difference, and for doing his part to foster a culture of vocations in Sioux City. The foregoing is taken from a story by reporter Katie Lefebvre, which recently appeared in The Catholic Globe, published by the Diocese of Sioux City.