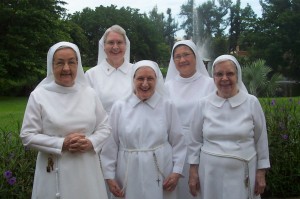 Somehow, I don't equate southern Florida with a cloistered, contemplative community but on that point, I am wrong in more ways than one! The Poor Clares of the Monastery of San Damiano of St. Clare in Fort Myers Beach recently celebrated their 25th anniversary in the Diocese of Venice. They, in turn, are a "daughter house" of the Poor Clares in Delray Beach, Florida, who came to the newly created Diocese of Miami in 1960.
Much like the papal line of succession, the Poor Clares can trace their lineage back to the first monastery that their founder, St. Francis of Assisi, began in Assisi, Italy, in 1212, with their foundress Saint Clare. St. Clare lived with her sisters for 42 years in the monastery of San Damiano in Assisi. Going forward 800 years, Delray Beach was founded by the Poor Clares in Bordentown, New Jersey, which was founded by Jamaica Plain, Massachusetts, which was founded by Evansville, Indiana, which was founded by Omaha, Nebraska, which was founded by San Lorenzo Roma, in Italy, which was founded by Ss. Cosmas and Damian Rome, which was founded by San Damiano in 1233. And if this isn't enough to make you dizzy, their are over 800 Poor Clare monasteries in all parts of the world!
The sisters' life in Florida revolves around the traditional monastic blend of work and prayer. Their ministry is prayer— for the Church, for the diocese in which they reside and for all God's people.
Bishop Frank J. Dewane expressed his feelings about the Poor Clares in a letter to the community: "San Damiano Monastery has remained true to the mission of its founding. This Monastery participates each and every day in the same charism which filled and motivated St. Francis and St. Clare… like your two venerable founders, you have left all and given yourselves entirely to living the Gospel life — for the greater glory of God and for the salvation of souls. Your life of prayer and community is the 'heartbeat' of our Church."
Mary Almighty God bless you. May He look on you with the eyes of His mercy and give you peace. 
Here below may He pour forth his graces on you abundantly, and in heaven may He place you among His saints. 
Blessing of Saint Clare