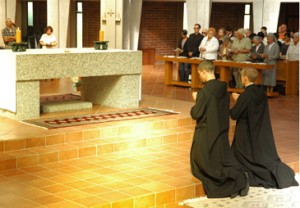 Here's an uplifting story from The B.C. Catholic, the publication of the Archdiocese of Vancouver, on a young man who just made his perpetual vows as a Benedictine at Westminster Abbey in Mission, British Columbia.
John Marple (now known as Frater Caesarius) was the fourth of eight children, who began homeschooling when he was in second grade.
"[Our parents] pulled us out of school because they wanted to bring us up in our faith," said Frater Caesarius. "They taught us solid doctrine."
The family went to Mass every morning. "We actually went to the Pastoral Center at the 8 o'clock Mass for quite a number of years." On weekends the family attended Mass at their home parish. Frater Caesarius was homeschooled untill Grade 9 and completed high school at Austin O'Brien Catholic School.
The road to discovering his vocation was not an easy one, but thank God for his parents, who obviously made his formation in the faith a priority.