Tag Archive
Apostleship of Prayer
Benedictine
Benedictines
Benedictines of Mary Queen of Apostles
Blessed Virgin Mary
Canada
Carmelites
conference
Conventual Franciscans
Discalced Carmelites
discernment
Dominicans
Dominican Sisters of Mary Mother of the Eucharist
Easter
EWTN
family
Fr. Hardon
Franciscans
LCWR
Lent
Little Sisters of the Poor
Mercedarians
new evangelization
Norbertines
Passionists
Poor Clares
Pope's Intentions
Pope Benedict XVI
Pope Francis
Pope John Paul II
prayer
priesthood
saints
School Sisters of Christ the King
seminary
Servants of Mary Ministers to the Sick
St. Francis de Sales
statistics
Vatican
video
Visitation
vocation
vocation director
Vocations
World Youth Day
You are the one.
That's the slogan the Archdiocese of Portland's new vocations director uses to help Catholics discern their calling, whether it's marriage or a single lifestyle, or religious life, the diaconate or priesthood.
Father John Henderson has been leading baptized people to find their calling in his new role in the vocations office since he was assigned to the position last summer. He oversees the 52 diocesan seminarians stationed at Mount Angel Seminary, a handful of other schools, and in local churches. He also promotes vocations in the parishes, recruiting men to the priesthood.
On his "To Do" list lately has been the preparation of the Archbishop's Retreat, "On the Priestly Vocation," slated for Jan. 27-29, at the Our Lady of Peace Retreat House. Father Henderson assists Archbishop John Vlazny in leading this weekend retreat for men who would like a chance to reflect on the possibility of priesthood.
For the rest of this story by Clarice Keating, staff writer for the Catholic Sentinel, click here.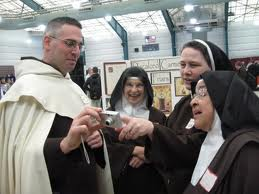 On October 14, 2011, Franciscan University of Steubenville will host nearly 100 national and international religious communities and dioceses at its annual Religious Vocations Awareness Day, the largest vocations fair in the country.
"Vocation Awareness Day is a great time to connect with Catholics from different traditions and to see the many ways it is possible to follow Jesus," says Father Rick Martignetti, O.F.M., director of Franciscan University's Priestly Discernment Program. "Our students always find it inspiring to participate and the vocation directors are renewed by witnessing the active faith life on our campus."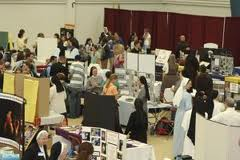 Religious Vocations Awareness Day will take place in Finnegan Fieldhouse from 10:00 a.m. to 4:00 p.m. The event is free and open to the public. It features religious orders from eight major spiritualities, including Franciscan, Benedictine, Ignatian, Salesian, and Carmelite. Among the many dioceses to be represented are Arlington, Chicago, New York, Greensburg, Pittsburgh, and Wheeling-Charleston. Some vocation directors will come from as far away as Spain and Canada.
Attendees can stroll among the displays while learning more about the charism and apostolic mission of each order.
For more information, contact the Priestly Discernment Program at 740-283-6495 or e-mail vocationsday@franciscan.edu.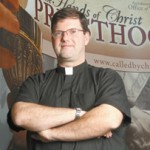 Check out this interview with Fr. Tim Hepburn, the vocations director for the Archdiocese of Atlanta, and former chaplain at Emory and Georgia Tech University. It's good to hear his emphasis on evangelization and docility to the Holy Spirit. May the Lord bless his work!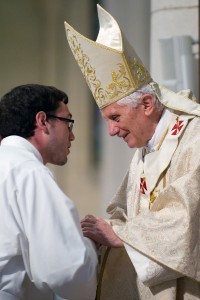 I was just paging through a booklet published under the auspices of the United States Conference of Bishops entitled, "Lend Your Own Voice to Christ: A Helpful Guide for Priests to Call Forth Men to the Priesthood."
The booklet was written by Fr. Thomas Richter, who for the past decade has served as vocation director for the Diocese of Bismarck.
Fr. Richter begins his presentation by giving us three "facts" that have been confirmed by many vocation-related surveys:
• Fact #1: The main reason young people do not consider the priesthood is because they have never been personally asked.
• Fact #2: Men first consider the priesthood because a priest encouraged them to consider it. Year after year, in surveys of classes of ordination, 80-88 percent of the men consistently report that it was a priest who invited them to consider the priesthood. Jesus calls men to the seminary and priesthood through a priest's personal invitation encouraging them to consider it.
• Fact #3: The great majority of priests do not encourage men to consider a vocation to the priesthood. Surveys consistently show that only about 30 percent of priests actively invite men to consider the priesthood.
He then gives priests seven powerful lessons for calling forth young men to join them in ordained ministry.
This fine booklet, and several other vocations resources, may be found at the website for the National Conference of Diocesan Vocation Directors.
I guess Fr. Richter's work proves the old adage that "it never hurts to ask."
The former convent at Our Lady of Good Counsel Church in Little Rock, Arkansas will once again be a place to support religious vocations.
Last month, Bishop Anthony B. Taylor announced that the Diocese of Little Rock will be establishing a new House of Formation for current and potential seminarians at the Sisters of Mercy convent, which was used for religious education classes and parish offices until 2009. Msgr. Scott Friend, vocations director, said the house, slated to open next year, will have bedrooms for ten seminarians or discerners, two priest apartments, kitchen, meeting room/library, dining room, common area and chapel.
He also said that the House of Formation will have a constant presence in the lives of Catholics in the area, especially at Good Counsel. Instead of being photographs on a vocations poster, the men will be present at parish and diocesan events. He said this will help continue to foster a "culture of vocations" in Little Rock.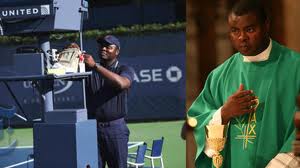 The New York Times recently ran a feature article on Fr. Paul Arinze, a Nigerian-born priest who serves as vocation director for the Diocese of Madison. In his "spare time," Fr. Paul serves is a tennis umpire who has worked at Wimbledon and, most recently, at the U.S. Open.
He doesn't seem to be neglecting his "day job," though. Madison projects that it will ordain 26 men between 2012 and 2019, and the diocese is welcoming a record ten seminarians for the 2011-12 academic year.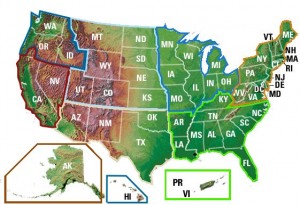 One of the top ten vocation websites for 2011 as identified by the United States Conference of Catholic Bishops (USCCB) is the site of the National Conference of Diocesan Vocation Directors.
The USCCB's listing for this site highlights the map of the United States with easy-to-access contact information for all diocesan vocation offices. I think this excellent page provides a welcome service not only for those wanting to contact a vocation director, but also for diocesan and religious vocation directors who can compare their site with others in the field.
There are other interesting features on this site, such as an outstanding resources page with interesting items such as "Ten Things That Promote Vocations" by Fr. David Toups. In case his name sounds familiar, he was mentioned in last week's vocation news roundup.