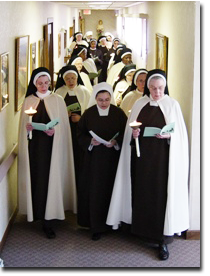 On November 21, 2012, the Carmelite Sisters of the Divine Heart of Jesus will be celebrating 100 years in America. They came to this country from Germany in 1912 and settled in Milwaukee at the invitation of the Archbishop. In honor of this special event and to honor their foundress Bl. Maria Teresa of St. Joseph (Anna Maria Tauscher), the sisters in Wauwatosa, WI, will be hosting an open house, rosary and reception along with Mass celebrated by Archbishop Jerome Listecki.
The sisters are very happy that their Mother Foundress founded the Wauwatosa house personally. Sr. Immaculata says, "She walked the grounds, saw the staircase that was in her dream (still standing!), and because they had no money, the sisters all worked together to build a high cloister fence that surrounded the entire property." Their Mother General from Europe will also be in attendance to share in the festivities.
The sisters now have homes throughout the US but in this particular province they have the provincial Motherhouse in Wauwatosa, homes for the elderly in Kenosha, WI, and Grand Rapids, MI, a Residential treatment center for boys in Wauwatosa, a Residential treatment center for girls in East Chicago, IN,  and Emergency shelter care for infants and small children in East Chicago, IN. The Order's newest foundation is in Russia.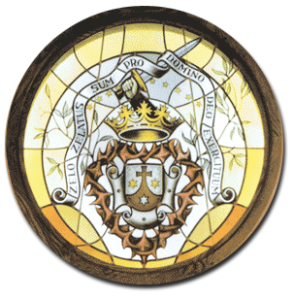 Their coat of arms beautifully symbolizes their spirit of humility and penance. The silver star in the center stands for the sisters who are striving to practice these virtues. The other stars represent the saints of Carmel of the old law, the saints of Carmel of the new law and the shining virtues of the Mother of God. The arm and hand is that of the prophet Elias, the "Father of all Carmelites." The sword signifies his ardor: "With zeal, I am zealous for the Lord God of Hosts". The wreath of thorns represents the sufferings that the Church must endure because of the sins of her members.
The Carmel of the Divine Heart of Jesus should be ignited with fervor and ready to offer itself as a victim in order to atone for all those who have been "torn from the Heart of Jesus." A Carmelite Sister D.C.J. must engrave the Coat of Arms on her heart and become, through its meaning, a "heroic victim soul." Our goal is to transform our "silver star" in this life into the golden star in heaven. There as saints, we may give praise to God for all eternity!
See the Archdiocese of Milwaukee's Catholic Herald for more information.