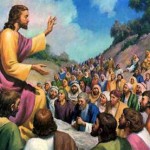 "Which one of you would hand his son a stone when he asked for a loaf of bread, or a snake when he asked for a fish? If you then, who are wicked, know how to give good gifts to your children, how much more will your heavenly Father give good things to those who ask him."
This excerpt from today's Gospel beautifully depicts Our Heavenly Father's love for us and His desire to give us every good gift.
As a human father, I generally try to give my children bread and fish, and not a stone or snake. In other words, I try to give them good gifts.
At the same time, I don't give them something just because they ask for it. Perhaps instead of "bread" and "fish" they want to fill up on candy and soda before dinner. Of course I have to say no to that. Similarly, I may have to say no to entertainment choices that are more harmful than uplifting.
Through this common experience, it's clear to me that in giving good gifts, a father (as opposed to a "sugar daddy") must exercise wisdom and discretion.
We have a Father in heaven who wants to bestow on us gifts that are infinitely beyond our limited imaginations. Yet what seems "good" to us right now may in fact be harmful to us. Thankfully our Father's beneficence to us is above all a matter of divine wisdom, not passing human fancies.
During this season of Lent, as we strive to grow in our own personal vocation in Christ, may we seek to purify our desires, so that we may want only what is truly good for us.