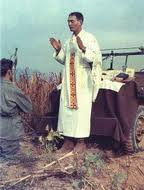 In a news release earlier this month, the Archdiocese for the Military Services, USA reported a steady increase in the number of young men entering Catholic seminaries who would like to become military chaplains.
At the start of the 2011-2012 academic year, the number of co-sponsored and military-affiliated seminarians will stand at 31, up sharply from just three in 2008-2009; 12 in 2009-2010; and 23 in 2010-2011.
Co-sponsorship means that a diocesan bishop agrees to accept the young man as a seminarian, and that the seminarian will participate in the Chaplain Candidacy Program of one of the branches of the U.S. armed forces. The bishop agrees to release him for service as a military chaplain after three years of pastoral experience as a priest in his diocese. When the priest leaves military service, he returns to the diocese.
Father Kerry Abbott, O.F.M. Conv., Director of Vocations, said, "This is one of the 'untold stories' of the blessings of the Holy Spirit upon the Church Continue reading New Soldiers for Christ →