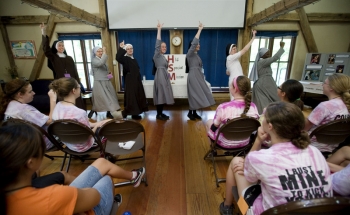 Forty girls recently participated in Camp Mater Dei, an annual two-day retreat camp for girls in sixth, seventh, and eighth grades who are discerning a religious vocation. The retreat was sponsored by the Office of Vocations for the Archdiocese of St. Louis.
The setting for the July 29-30 camp–the Dana Brown Overnight Center on the campus of the Shaw Nature Reserve in Gray Summit–provided a scenic backdrop of God's creation as the girls had the chance to have one-on-one interactions with members of four religious communities. The retreat also included the Sacrament of Reconciliation, Eucharistic adoration and Mass.
This year's represented communities included the Carmelite Sisters of the Divine Heart of Jesus, the Franciscan Sisters of the Martyr St. George, the Apostles of the Sacred Heart of Jesus, and the Missionary Sisters of St. Peter Claver.
For more, check out this article from the St. Louis Review.