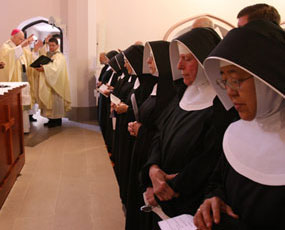 Archbishop Edwin F. O'Brien erected the All Saints Sisters of the Poor, a women's religious community based in Catonsville, Maryland, as a Catholic diocesan institute last week–fittingly on the Solemnity of All Saints–at the Basilica of the National Shrine of the Assumption of the Blessed Virgin Mary in Baltimore.
The Holy See recognized the All Saints Sisters of the Poor as a diocesan institute–a religious community that reports to the local bishop–within the past few weeks.
The sisters were formerly an Episcopal religious community. They were received into the Catholic Church in 2009 along with their chaplain, Fr. Warren Tanghe, after a seven-year discernment. They took private vows when they entered into full communion with the Church, but were able to  profess public vows during last week's celebration. They are now "official" and can accept new members.
The American branch of a society founded in England, the All Saints Sisters of the Poor came to Baltimore in 1872 and have been at their current location since 1917.
In addition to devoting their lives to a rigorous daily prayer regimen, the sisters offer religious retreats, visit people in hospice care, and design religious cards to inspire others in the faith.