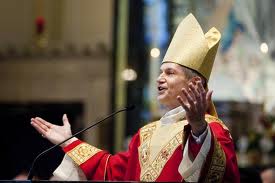 The State Journal-Register reports that the Diocese of Springfield, Illinois now has 20 seminarians, the most it's had in over 25 years. The article includes some sobering facts to counter this news, including the approximately 50% attrition rate of seminarians and how even that number doesn't quite keep pace with the needs of a diocese that has 131 parishes as well as various college, prison, and hospital chaplaincies.
Still, the news is encouraging and is further evidence of a stabilizing of priestly vocations in the U.S. after the decline of the 1970s and 1980s. Further, the Diocese of Springfield is bouncing back from the 1990s, when it underwent some significant scandals even before clerical sex abuse became a national story.
Yet the new generation is undaunted. As one of the current seminarians noted: "[By wearing the collar], people may immediately make assumptions about you that might be very bad. I know this is not about me. I know I'm not going to fix any huge problems on my own. But I can be, for the people God sends me to, an expression of the love God has for them."
Amen to that.