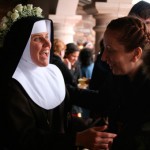 On December 12, 2011, Sr. John-Mark Maria made her first profession of holy vows with the Poor Clare Sisters of Perpetual Adoration, in Tonopah, AZ. She is the first Poor Clare Sister of Perpetual Adoration in Arizona to advance this far in her discernment of religious life.
Sister's joy on this day was evident, particularly when the "always smiling" Sr. John-Mark Maria received the Eucharist.
Prior to 2005, the Diocese of Phoenix had never had a Contemplative Order of Nuns.  Their Chapel was dedicated by Bishop Thomas Olmsted on May 7, 2011. They continue to raise funds for the construction of their actual cloistered monastery. Temporarily, they live in modular homes near the Chapel.
May the Sisters presence and prayers bless the people of the Diocese of Phoenix.